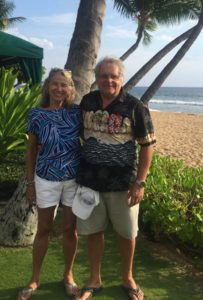 Thank you for visiting our site.
We are a couple in our late 50's (Ian) and mid 60's (Ann). Ann retired at the end of the 2016-2017 school year. We loved living in San Diego. We also love to travel, and have done so whenever our work schedules allowed it. We travel both domestically and internationally, generally fairly low-budget.  When we began looking more closely toward retirement, we were faced with a dilemma. Yes, our projected retirement budget would allow us to stay in high-cost San Diego, but we would be unable to travel as much as we would like. Thus began a year-long period of intensive research (see Seduced Into Nomadic Lifestyle).
Based upon this research, our initial plan is for Ian to take a one-year sabbatical that started in the summer of 2017 to travel around and investigate various lower-cost retirement destinations, both internationally (expat), and domestically (or not). In theory, we should be able to accomplish this exploratory adventure for less than our living expenses in San Diego. Before the end of the year's travels, we will decide what to do going forward. Our intention is to keep our readers posted with entertaining and practical details: planning, logistics, decision-making, means of travel, highlights, and challenges, as well as our itemized expenses. And all the other joys and predicaments that present themselves along the way!
Before we left, we posted our favorite pictures either from San Diego or from previous travels. We also had posts about our transition from full time living in San Diego to the nomadic lifestyle.