Leaving Boquete
Two months ago, we had altered our itinerary, dropping Nicaragua and adding Panama, due to the costs of airfares. We were able to find less expensive flights from Guatemala to Costa Rica and from Panama to Colombia. We ended up spending the entire month of November in Costa Rica, leaving us only 11 days in Panama, as we had booked our flights from Panama City to Medellin for December 11. We had booked the last three of these days in Panama City because we wanted to see the Panama Canal and had found a great hotel deal using IHG points. We wanted to visit Boquete, but where else? We narrowed it down to two locations, Panama City beaches (Coronado, etc.) or Pedasi on the Azuero Peninsula, farther from Panama City but the driest area of Panama. Guess which one we picked? (Hint: key word, dry.) The only problem was figuring out the buses to go from Boquete to Pedasi since we were going from one small town to another. What we came up with was:
Bus from Boquete to David
The Panama City-bound bus from David getting off in Divisa, basically a bus stop in the middle of nowhere, where Highway 1 heads north toward Panama City and Highway 2 drops down the Azuero Peninsula
Divisa to Las Tablas
Las Tablas to Pedasi
With all of these bus connections, we were a bit concerned about whether we could make it in one day but decided to give it a go. We left our apartment in Boquete at around 8:45 am to walk to the bus stop. As we got close, Ian spotted the bus so we made a mad dash and were able to get on. We were hoping to make the 10 am Panama City bus, but alas it was not to be, so we waited around the David bus station and got on the 11 am. This bus was a double decker with as much leg room as first class on a plane. We were given the front two seats on the top level, so we had a great view. Just one minor problem: the TV screen was directly in front of us playing really bad, really violent movies, with the sound cranked up. Oh well, Latin America again making sure we got the true experience.
After a lunch stop, we arrived at Divisa – Ian was monitoring on Google Maps and just as we were ready to head down to exit the bus, the driver's helper came and got us. We asked where to catch the bus to Las Tablas and another passenger told us to follow him. He got us to the right spot, about a ten minute walk from Highway 1 onto Highway 2. However, he gave us what we believe was not the best information, advising us to switch buses in Chitre, and we followed his advice. We went from a super comfortable double-decker bus to a 15 passenger van that was packed, switched in Chitre to a 30 passenger, once again packed, small bus to Las Tablas, and back to a 15 passenger packed van to Pedasi. Changing buses in Chitre probably cost us about an hour; perhaps our helpful traveling companion wasn't aware of the bus directly from Divisa to Las Tablas. Fortunately, we got to Las Tablas shortly before the last bus to Pedasi left. Otherwise, It would have been an expensive taxi ride, but luckily we didn't learn just how expensive..
Arrival in Pedasi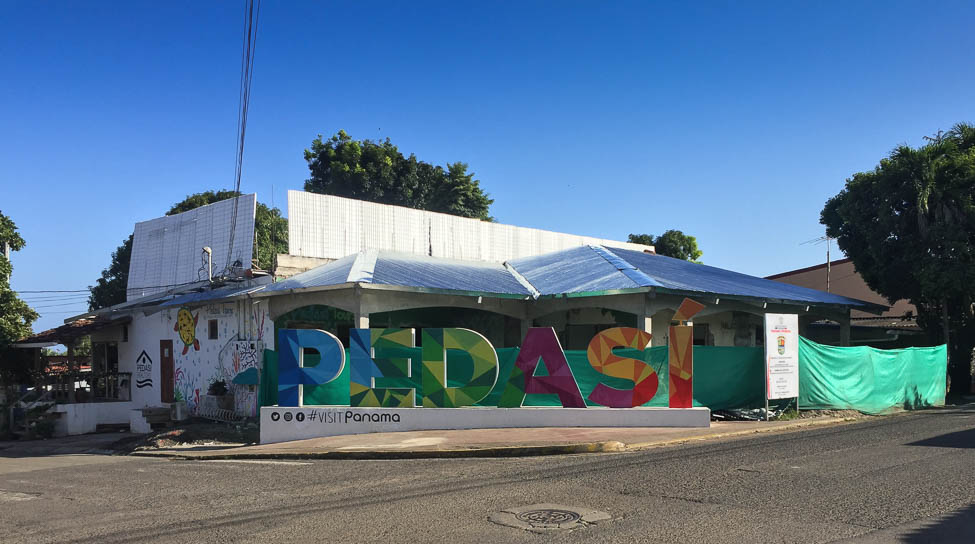 Our hotel for the next four nights was Residencial Santa Catalina, at $45 per night. We arrived at 6:45 pm, 15 minutes before their front desk closed, ending our trickiest bus travel day. We stayed in a hotel because the Airbnbs in Pedasi seemed overpriced; the cheapest we could find being $75 per night. We suspect it's because Pedasi is a small town with a limited supply of apartments and with the overseas retirement publications pushing Pedasi, demand is outstripping supply and owners are trying to make a killing. Remember, we were here in low season. While the hotel was fine, the room was kind of small. However, it did serve a great breakfast (large bowl of fruit, eggs, toast, and coffee) but we missed having an apartment where we could prepare meals for ourselves.
Pedasi is a cute town, but if we thought Boquete was small, compared to Pedasi, it's huge. The town is centered around a square with a park, fronted by a church (no surprise here) with a couple of stores and a few restaurants around the square.
There is also one main street separate from the square that has a few stores and restaurants and other businesses.
Herein lies a minor challenge we encountered: we couldn't figure out whether it was because it was off season, the day of the week, or something else, but from one day to the next and actually from one meal to the next, we never knew which restaurants were going to be open. Of course this being Latin America, hours were never posted. So for every meal we were eating out (lunch and dinner), we would circle the town (took about 5-10 minutes), getting the lowdown on which restaurants were open and then selecting where we would eat. Since the majority of the places served pizza, in four days we were there, we had pizza three times. Not that Ian was complaining, given that pizza is his favorite food. What was interesting, purely by coincidence the pizza kept getting better with each different place we visited.
Side note: The Italian restaurant with the best pizza (and wonderful homemade pasta) would be closing as soon as the Italian owners found a buyer for their business so they could return to Europe. With the season being so short, January through March, this expat couple was quite dissatisfied with their lives in Pedasi.
Pedasi Beach Access
Pedasi is located about a 30 minute walk from the closest beach, Playa El Toro. Our first day in town, the sun was out so we opted to walk to that beach. The walk was pleasant and while we didn't notice many housing developments, we did notice quite a few signs indicating they were coming in the future. Who knows how far into the future that will be?  When we arrived at the beach, it was a little disappointing given how many rocks there were (it was low tide). But we started walking north and the beach kept going on and on. After about 10 minutes, the rocks disappeared but the water got rougher, with a noticeable undertow, so that neither of us would have wanted to brave the waves.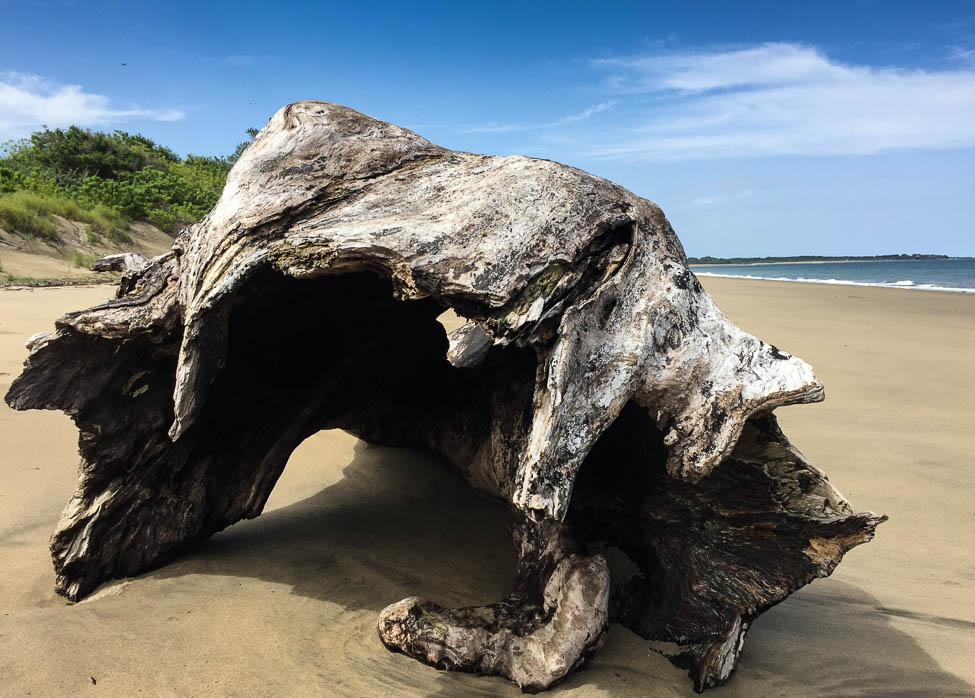 After an hour and a half of walking, passing only one other couple, we still hadn't reached the end of the beach. But we did arrive at a beach bar, with a calm ocean in front of it, so we took this opportunity to get ourselves wet. Two days later, we learned that Playa El Toro is actually quite a short beach and that most of the time we had been walking on El Arenal.
The beach bar had $1 beers and reasonably priced food; it was lunch time, so twist our arms.
We noticed that some people had driven to the beach bar, and upon inquiring learned that the road went back to Pedasi town, so we opted to walk back that way. This route took about 50 minutes, much closer than walking back along the beach to the original road. Walking back we saw a few small housing developments that were targeted at gringos. One advertised a 1500 sf house on an 8000 sf lot for $160K about a mile from the beach.
Our next day was overcast although not raining, so we decided to try for the next closest beach, Playa La Garita, about a 40 minute walk. Our luck did not hold out: about three-fourths of the way there, it started drizzling, which then progressed to rain. Unfortunately, we hadn't brought umbrellas, but we opted to continue walking since we were so close and were wearing out beach clothes. Along the way we passed the Andromeda development, large houses, some with ocean views and what we believed were condos that were being advertised starting at $160k. We didn't visit the sales office because by that time we were drenched. This beach was primarily rocks, with no clear way of walking on it, so we soggily headed back to town.
Our third and last day in Pedasi, it was cloudy again, but the promise was for sun; this time we took our umbrellas, just in case. We decided to walk the quick way back to the beach bar and continue heading north to see if we could make it to the end of El Arenal. After another hour of walking on the beach, we reached the end, passing only one man with his dog. We turned back around and had lunch at the beach bar again (tough life) before returning to town.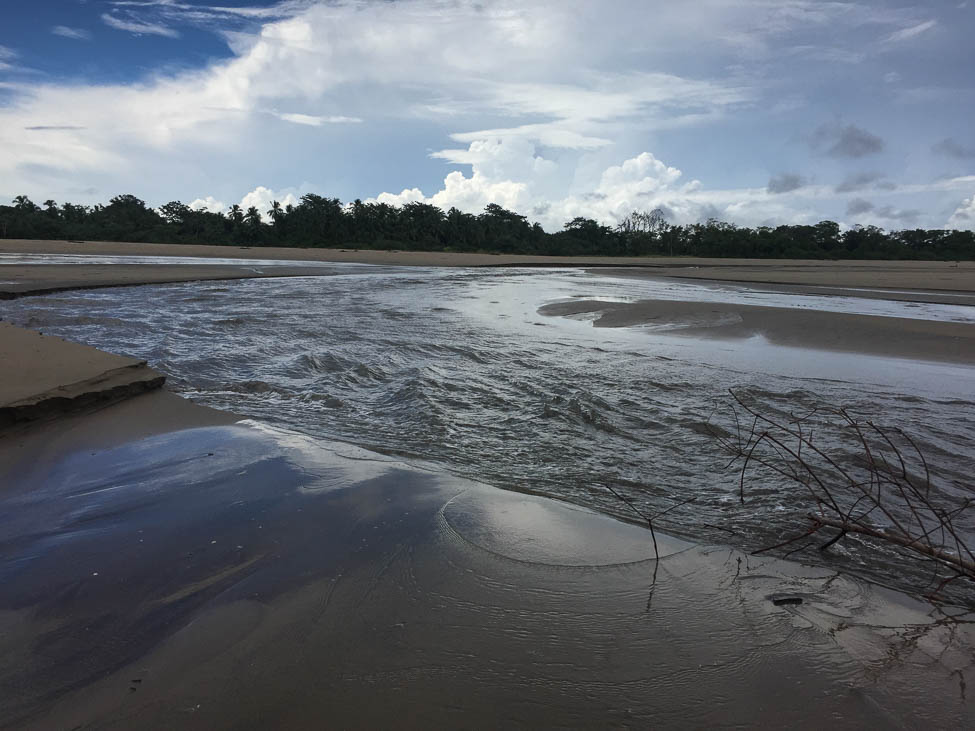 Note: As a river cuts into the beach, we're not sure if we could have walked all the way to the end at high tide. So a total of 2 ½ hours of walking (over two different days) in one direction on a beach meeting only three other people and one dog turned out to be the highlight of our time in Pedasi.
While we enjoyed our days in Pedasi and got in some serious beach walking time, it would be way too small for us to call home. Since it is such a small beach town, again the prices for groceries were higher than in Boquete, although we didn't purchase anything since we didn't have a kitchen. Prices in restaurants were also higher, comparable to what we had seen in the Costa Rican beach towns.
Next up: Panama City.
Ian & Ann