Quepos
When we decided to leave San Ramon, it was with mixed feelings. We were having so much fun and enjoying the views and apartment so much, but how could we come to Costa Rica without visiting Manual Antonio National Park? So we opted to leave and reserved four nights in an Airbnb in Quepos ($41 per night). The area around the national park encompasses one legal town but two different areas: the first is Quepos, the second Manual Antonio. We could stay in the Manual Antonio area, pay more, be in more of a tourist bubble, and be close to the national park. We could stay in Quepos, farther from the national park, pay less, have more services and a real Tico town. We chose the latter. We met a Swiss couple who were staying closer to the park who said that prices were comparable to what they pay in Switzerland.
From San Ramon, we took the bus to Puntarenas, which runs every hour. The trip took about 2 hours and cost $4.47 for both tickets. Once in Puntarenas, we needed to change bus stations. No signs or indications of where to go. On the first bus, we met a migrant Nicaraguan, who didn't speak English, but was able to help us find the second bus. The situation with Nicaraguans in Costa Rica is similar to Mexicans in the US. No one wants them, but no one wants to do the work they do, harvesting crops including coffee. We've been told by Ticos that a certain amount of animosity exists towards Nicaraguans in Costa Rica. The second bus took about 3 hours, a bus left every hour and a half, and cost us $8.52 for both tickets. We got to ride right along the coast and through the beach town of Jaco, which we had thought about visiting. It looked touristy, smaller than we had expected, all the streets were paved, we wouldn't be averse to visiting there when we come back to Costa Rica.
Arriving in Quepos, after navigating our way to our Airbnb apartment, our host took us on a quick tour of Quepos. Honestly, there's not a lot to like about the town, although Ann liked it a bit more than Ian did. It was originally started as a company town by the United Fruit Company (now Chiquita) which has quite a history in Central America of, shall we euphemistically say, not being a good corporate citizen. The weather didn't cooperate while we were in Quepos: it rained for two days straight (well, not all day), took a break the day we went to the national park (we totally lucked out there!), and then picked up where it left off the next day. (Sneak preview: It was sunny the day we left, while we waited for 2 hours at the bus stop.) By rain, we don't mean San Diego drizzle. We mean a full out deluge which left us wondering if Noah was going to show up and invite us onto the ark. Our apartment was very small, had a metal roof, and sat directly under a tree which liked to shed it's hard fruit every few minutes. When the fruit hit the roof, it sounded like bombs going off, which caused us to start laughing hysterically every time it happened – cheap entertainment? On a positive note, we did have a pool and were able to find a few inexpensive meals. On the negative side, groceries were about the same prices as we found in Coco and Tamarindo, with less of a selection.
Our first day in Quepos, we wandered around, checked out the waterfront and marina, tried to stay dry, and ate pizza. While there is a beach which can be seen from the harbor of Quepos, there doesn't appear to be an easy way to get to it.
Manuel Antonio National Park
Our second day, we had arranged, through our Airbnb host, Geylor, for a private guide(@VivianaJimenez on Facebook) to the national park. The cost was $50 a person, and included transportation and entrance to the park. Considering that the entrance fee for foreigners is $16, it was a good deal. (While on the tour, we noticed that most guides had more than just 2 people.)
Having a guide turned out to be a very smart move, and our guide, Vivaina, was excellent! She carried a scope (as did other guides) which allowed us to see wildlife close up. She even used Ian's phone to take some pictures through the scope for us, which was not as easy as it looked. We were amazed at how she knew exactly when and where to point the scope! During the three hour hike with Viviana, we saw tons of wildlife, including:two-toed and three-toed sloths, howler monkeys, white face monkey, iguanas, raccoons,  a coati, butterflies, and rather colorful grasshoppers and crabs. Both of us agreed that without the guide, we would have missed so much.
We left our guide about noon and proceeded to the beach to relax, have a dip in the water. Apparently our raccoon friends had other ideas. While we were in the water, two approached our backpack (one keeping lookout), unzipped the three zippers, and checked out the contents for food (there wasn't any); we had already eaten our lunch, but perhaps the smell remained. Ian had to run in and out of the water every time the raccoons appeared, again very comical.
While the park was busy (entrance is limited to 1000 guests per day, closed on Mondays), Manuel Antonio lived up to its reputation. We are so glad that we stopped in for a visit.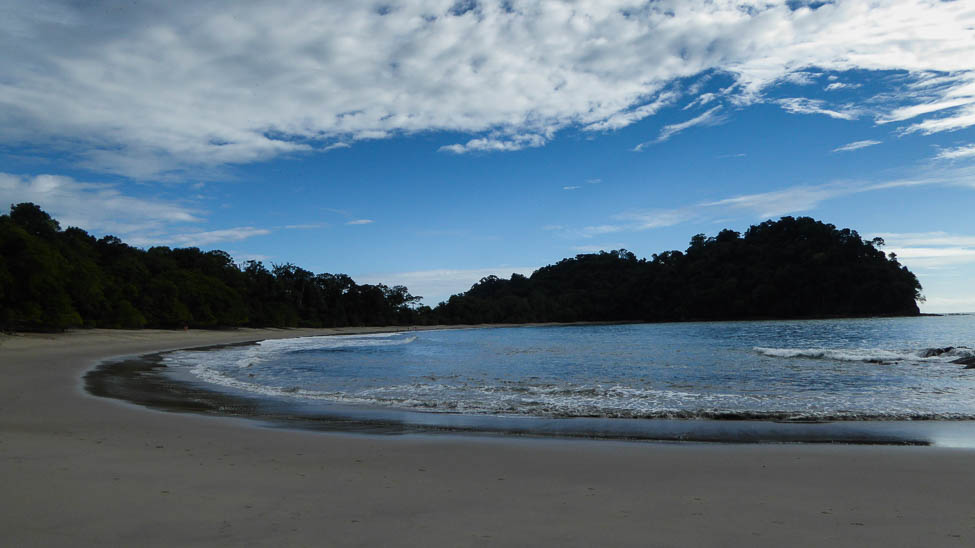 Playa Espadilla Sur
Right outside the park is a public beach, Playa Espadilla Norte (the closest to Quepos), so the next day we took the bus back to this area, $.70 each way for both of us. Looking for a little exercise, we made it about half way down the beach before it started raining again, we decided screw this, took off our clothes (well except for swimsuits), put everything into the backpack, put a towel over our backpack and finished our walk.
No specific cost of living, e.g., housing, information is included in this post because Quepos /Manual Antonio is considered one of the most expensive places in Costa Rica to live. Our stop here was as tourists. We never considered living here because of the costs and the amount of rain the area receives.
A Few Random Observations – Washing Dishes and Roosters
As mentioned in our last post, a paste-like substance is used to wash dishes in cold water. Turns out this practice is not only in Costa Rica but in other Central American countries, e. g, Panama, and is available under several different brand names.
Also, it appears that roosters in Central American countries (at least Guatemala and Costa Rica so far, and it turns out to be the case in Panama as well) crow all day, and sometimes all night, long. A little research told us that roosters have an internal clock which causes them to crow at dawn, but that crowing is also a form of communication and that some hens are able to crow. Conclusion: roosters, and some hens, in Central America are a talkative bunch.
Next up: onward to Panama.
Ian & Ann