Los Angeles Cloud Forest
After chilling out and enjoying San Ramon for a week, we decided to explore farther afield. A few expats had recommended a visit to Los Angeles Cloud Forest. While Monteverde Cloud forest is famous, it also has lots of tourists, and is a distance from San Ramon. Los Angeles Cloud Forest flies under the radar so for those looking to explore a cloud forest without the tourist throng, it might be a good option. The land was originally purchased by a former president of Costa Rica. The original idea was to grow coffee on part of the land; that didn't work because it was too cloudy and rainy. The land was later sold to its current owner, a hotel developer specializing in eco-friendly hotels. He built a hotel on part of the property, Villa Blanca, setting aside the rest of the land for conservation. Our Airbnb host, Nancy, recommended a driver named Wagner, who we hired for the day. Our idea was to combine the rain forest with a visit to a couple of other Central Valley towns that are popular with expats. The cost for the driver for the day was $100. He dropped us off at the hotel where we had reserved spots for the 8:30 tour of the cloud forest for $29 per person. Upon arrival, we got our first surprise: we were the only ones on the tour.  Our guide, Christian, was great! The tour was supposed to be two hours, but we ended up spending about three and a half hours total and without seeing another person while we were inside the forest. We saw lots of birds, insects, butterflies and a wide variety of plants but no mammals. Christian, very passionate about his work, explained everything as we went along, giving us a lot of interesting information about the various flora and fauna we were seeing. Including a detailed explanation of leaf cutter ants! After the tour, we had a tasty (if slightly expensive) lunch at the hotel's restaurant before Wagner picked us up.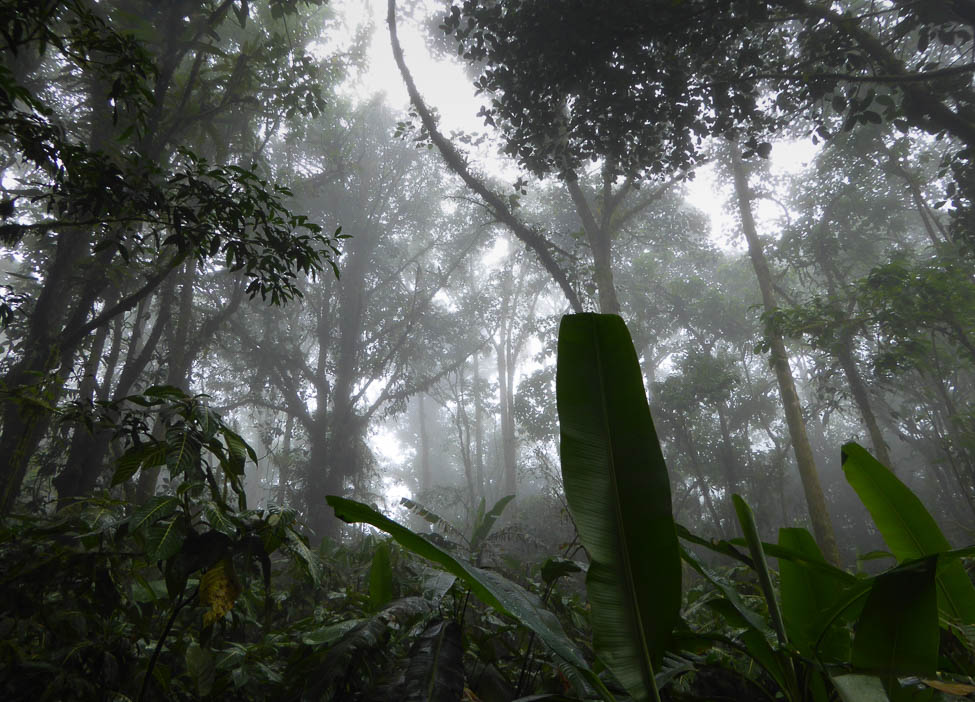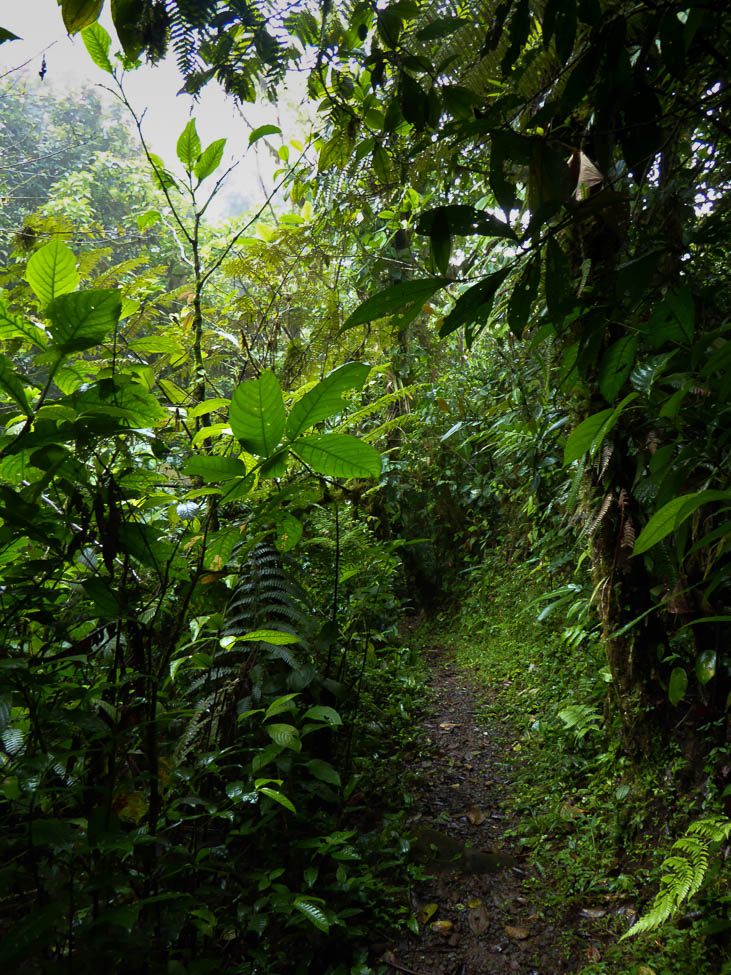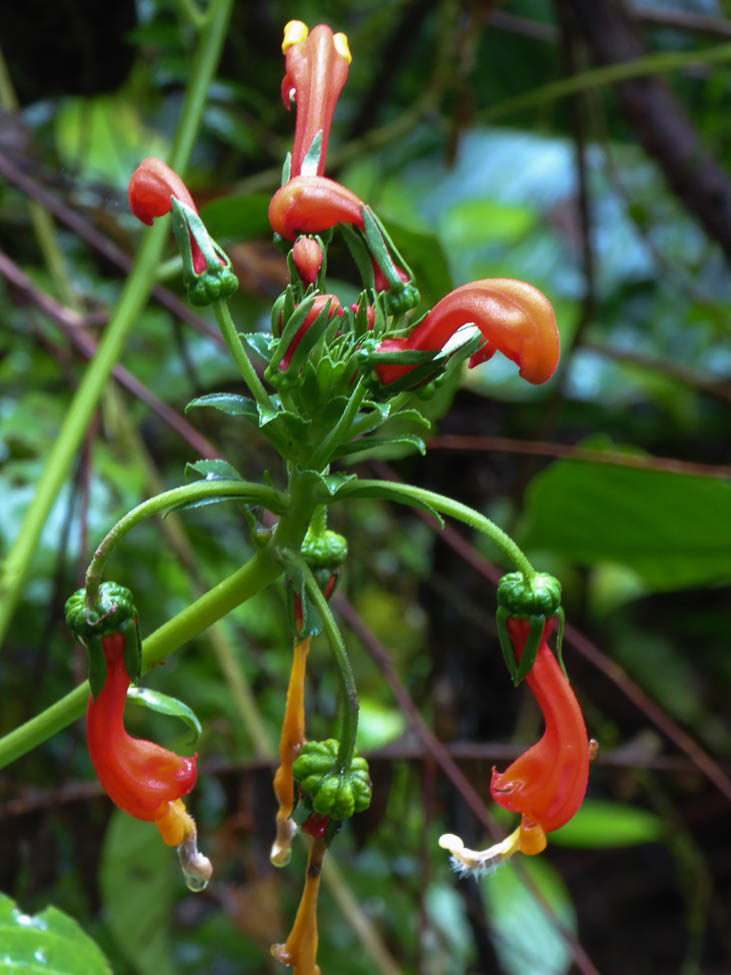 Atenas
While doing our initial research on towns in Costa Rica's Central Valley, using criteria such as climate, expat communities, etc., Atenas was high on our list, so we were eager to visit. The main reasons we were staying in San Ramon was because of the amazing Airbnb we found there and that it was easier for bus connections for the beach communities we visited. Atenas is slightly lower in elevation than San Ramon, smaller, but with an expat population about three times the size of San Ramon's. Pulling into town, the first thing that struck us was how confining the central part of town felt.
There's a square like most Costa Rican towns, and while the church is nice, the park looked overgrown and in disrepair.
We wandered around town for a little trying to get a feel for it. While people we greeted were pleasant, we left thinking that we preferred San Ramon, largely because San Ramon's downtown felt like more of a real town, plus the temperature in Atenas was a little too warm for us.
Grecia
Our final stop for the day was Grecia, which proved to be another example of our Internet research not matching what we found with boots on the ground. We had initially dismissed Grecia because of its large expat community and its proximity to San Jose. It's close enough that a large number of people live in Grecia and commute into San Jose.
Once we arrived, we enjoyed walking around the central part of town. The park was pleasant and well kept, and the church, Iglesia de la Nuestra Señora de las Mercedes, was gorgeous and quite unique. It's made entirely of prefabricated metal plates painted red. It was created by Ateliers de la Société de Couvillet in Belgium and assembled at its current location. Wandering around the town, we really enjoyed the vibe. Grecia would be our second choice if we were to further explore living in Costa Rica's Central Valley. The only downside for us is that it's farther from the beach, over 1 ½ hours instead of 45 minutes to an hour.
Housing Costs in San Ramon
We paid $46/night for our Airbnb. Wagner, our aforementioned driver for a day, told us that he pays $300/month rent for a 2-story, 2 BR home, and he said that unless renting from a Gringo, one can live large on $700/month. Our research showed long-term rentals (once again defined as 6 months or more) in the range of $400-$800/month with some of the larger view properties in neighborhoods outside the center of town renting for $1000-$2000 per month. House prices start under $100K, with several to be found in the $100-150K range, and go up from there as house and property size increase. We think that prices are similar in the other Central Valley towns.
Thanksgiving
Our Airbnb hosts, Nancy and Andy, invited us to their Thanksgiving dinner, so we got to spend the holiday with twelve other expats (which included three children) and a Tico couple – all very lovely people. What we found interesting was that two of the couples were not retired, and they had moved to Costa Rica with young children. One couple is even getting ready to open a business next month, a coffee shop, on the edge of downtown.
Pickleball
On our last Saturday in San Ramon, some of the local expats we had met invited us to play pickleball, a slimmed down version of tennis. Four pickleball courts will fit within the space of one tennis court, and the game is played with a paddle similar to that used in racquetball and a heavier version of a wiffle ball.  Yes, we know, pickleball has been around for a while, but it was new to us. It was a lot of fun and a surprising amount of exercise. We think we're hooked!
Some Thoughts About Ticos
We have found the people of Costa Rica to be warm and friendly. We have enjoyed greeting and being greeted by people on the street. We have also found the Ticos to be patient and encouraging with our elementary Spanish. One day in town, when we were a little lost trying to find the produce market, we asked a woman sitting in her front courtyard for directions. She unlocked her gate, walked to the end of the block and around the corner with us, and then gave us the rest of the directions. Another little tidbit:  Ticos wash the dishes in cold water using a paste-like product called Axion, which is really quite effective.
Onward to Quepos
On Sunday, we pulled away from San Ramon with some sadness about leaving, but with anticipation about what lay ahead. At this point, it's our desire to return to San Ramon at some point to spend a few months to try it out as an expat destination. But in the end, we decided that it would be a shame to be in Costa Rica and not visit Manuel Antonio National Park. We will then go overland into Panama.
Ian & Ann